The Garden of Thorns Covers
With all the editions of this book now available, it seems like time to do a comparison of cover art...especially since I got to design the cover art for the newer editions.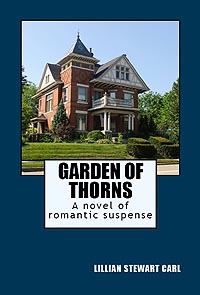 The house in the photo on the cover of Garden of Thorns is closer to the description of the house in the story, although the house on the cover of the e-version is actually in Fort Worth. Maybe we can split the difference....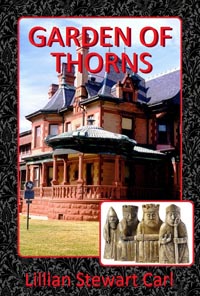 I made this cover with the same photo of Fort Worth's Eddleman-McFarland house that is on the cover of the Backinprint edition. The background is a William Morris print from the same time period as the house. The inset image is several of the Lewis chessmen, one of which is similar to one of the artifacts mentioned in the story.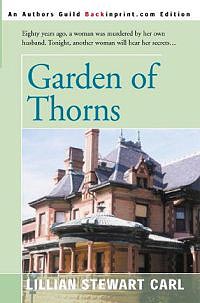 Back-in-Print Edition:
The new cover is a photo of a house of the right time period and similar architecture which is actually in Fort Worth--you can see the Texas Historical marker between the first "L" and "I" of my name. It escaped the March 2000 tornado by a quarter of a mile--whew!
The original title of this book was Blood and Roses. I don't remember the publisher's excuse this time.
All three of these covers are based on pictures taken by my husband, Paul.
June 2000
Back-in-print.com
ISBN 0-595-09447-3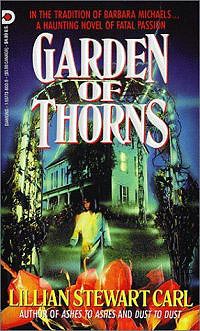 The original cover of Garden of Thorns with its New England clapboard house always makes me scratch my head in puzzlement. The first words of the story are, "The weathered brick of the house..." and its setting, Fort Worth, Texas, is mentioned in paragraph three. Again, there are no women waltzing around in nightgowns. The trellis is nice, though, giving the cover some depth.
October 1992
Diamond Charter
ISBN 1-557-73800-9