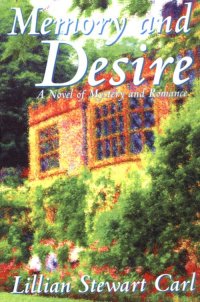 Memory and Desire
Wildside Press Digital: ISBN B-000-092WG-Q
Wildside Press Trade Paperback: ISBN 1-587-15268-1
This book is available in several e-formats
Find the Book |Reviews | Excerpt |
Claire came to the English village to find her best friend, Melinda, who'd vanished after performing in a play which re-creates a seventeenth century witchcraft trial. What she found was a murder mystery -- and a man. A man who, like her, is trapped between memory and desire. The play takes place at the manor house where the protagonists lived and died, a house where the past is still a haunting presence. Did Melinda ask too many questions about the village's tragic history? To find her, Claire, too, must ask questions. What she learns is that everyone in the village is playing a role -- not just in the melodrama, but in real life. Claire must walk a fine line between repeating the past and surviving the present. For if she puts one foot wrong she won't be seeing the future at all, let alone spending it with the man she's not only come to trust but to love.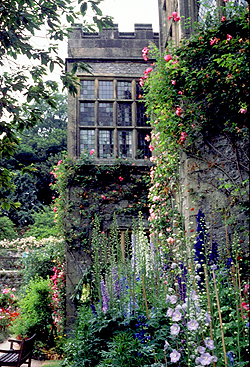 Haddon Hall in England provided the inspiration for the cover of Memory and Desire

Reviews
"A good story...about believable and engaging characters, with a dash of romance and a bit of the
supernatural. I enjoyed this book tremendously; it has something of the flavor of a classic novel
by Mary Stewart or Barbara Michaels. It also has a pretty dandy murder mystery as well."
--Dean James, Murder by the Book

"The set-up, which could have lent itself to a gothic feel, instead is built upon with a wry, crisp
style that had me smiling at times and always interested. The unbelievable was told in such a way as to make me accept it as a natural part of her setting...It's a cozy with weight."
--Patricia Wynn, DorothyL Mystery Readers e-Group

"...Ms. Carl describes the village of Somerstowe and the English climate so well that this reader
felt as if she were viewing a film. The characters, both major as well as minor, come to life...
The mystery kept me guessing until the last few chapters."
--Kay Martinez, Murder Express

"Carl's story is solidly written, deftly balancing intense emotion with satisfying intrigue. Her ear
for dialog is sharp and her love of all things British shines through ...a truly memorable read."
--Fran Baker, Fiction Forest/Screaming Media

"A delightful romantic mystery. The heroine is smart, funny and knows full well she's in over her
head from the start...I admire that common sense in a heroine. Ghosts add a touch of fantasy to
the book, but not so much as to turn off more traditional mystery lovers."
--Kelly Muzyczka, Mystery and Crime Host, BellaOnline

"It's definitely a mystery. And a love story. And a ghost story. And a story of witchcraft and man's
tendency to destroy that which he does not understand...A fascinating book..."
--Peggy Itzen, Cozies, Capers, and Crimes

"Hauntingly reminiscent of Daphne du Maurier, Ms. Carl's novel has something for fans of many
genres with mystery, romance, and ghosts. Red herrings keep the reader guessing from page to
page. Clair is a detective that has all the grit of a grown up Nancy Drew or young Miss Marple."
--Amanda Killgore, Romance at its Best

"...a thrilling romantic suspense novel with a touch of the paranormal added to make it even
better. The mystery was very well developed and Carl really keeps the reader guessing with all of
her characters...a great novel!"
-- Silmarwen, Amazon.com

"This is one of the author's mysteries in the gothic romance sub-genre. As always, it's done with a
considerable touch of humor and a fine cast...It's a tale of blackmail, of pranks gone wrong, of
relationships of various sorts. All in all, quite an enjoyable read."
--Timothy Lane, Fosfax
Excerpt
Chapter One
Claire was so badly jet-lagged from her transatlantic flight she felt as disembodied as a ghost. When Detective Chief Inspector Blake strode across the lobby of the police station and crushed her fingers in a handshake she was faintly surprised. She'd half expected him to walk right through her.
"Miss Godwin," he said. "The sergeant tells me you're here about the Melinda Varek case."
"Yes, I am. She was my foster-sister and best friend. I need to know what happened to her."
"I'd like to know what happened to her myself. But the longer a case goes unsolved the less likely it will ever be solved. And it's been a year."
"I know. I'd still like to talk to you about it, please."
Blake's expression was polite, although the twitch of his moustache suggested he wouldn't be sorry if she vanished into thin air. But Claire persisted in physical existence. A conservatively dressed young American wearing glasses, she had to be the least threatening apparition the detective had seen all day.
Conceding defeat, Blake gestured toward a door beside the reception desk. "Come through. I have a few moments."
"Thank you."
He ushered her into a small office. The fluorescent-lit and linoleum-lined cubicle probably looked just like a cell downstairs, except for a computer and several thousand pieces of paper. Through the window the city of Derby was as damp and dark as a scene in a film noir.
Claire sat down and clasped her hands in her lap. They were trembling. At last. She was here at last.
"It's been a year," repeated Blake, settling behind his desk.
"The first I heard Melinda was missing was when your officer went through the return addresses on her mail and contacted me. I wasn't too concerned then - she was always taking off on spur-of-the moment treks to odd parts of the world.
"Which is what I told your officer. And what her brother told him. And what her former husband told him. It was six weeks, well into August, before I was sure something was wrong. By that time school was starting. I'm a media specialist - fancy name for a librarian - in a big high school, I couldn't just walk off the job to look for her. And I had some other things I had to deal with." Not that Steve had actually moved out until December, she added to herself. But once he'd "put his foot down," in his words, and told her she couldn't go running off to England on a wild goose chase, she'd known the relationship had reached its sell-by date.
"The trail is a lot colder now than it was then," said Blake.
"I know that. But if the professionals couldn't find her, what could I have done?"
"We had other problems to deal with, too," Blake stated. "You're speaking of Miss Varek in the past tense. You think she's dead, then."
"Yes." Claire didn't flinch. She'd had a long time to think about it. "Don't you think she's dead?"
Blake nodded agreement.
"So where's her body? You found her car parked by Ladybower Reservoir and dragged the lake. You searched the surrounding countryside. You searched Somerstowe itself, on the off chance her car was stolen. Nothing."
"She scarpered, then. Ran off to make a new life."
"Why?" returned Claire. "She was a very successful journalist. She went to Somerstowe to research her first novel - she already had a couple of publishers interested. Nothing was missing from her room except her laptop and her camera. The tools of her trade, yes, but . . ."
"Maybe she wanted to hide from her ex-husband."
"Melinda never hid. She felt success was the best revenge."
"Did she, now?" Blake took off his glasses and polished them with a handkerchief. He was almost bald, the expanse of his skull shining above a tidy fringe of brown hair, while the lower half of his face was almost concealed by the luxuriant moustache.
Here was a man, Claire thought, who had all his bases covered. Or perhaps, being English, he had all his wickets defended. But he'd think she really was nuts if she asked him if he played cricket.
"Miss Varek might have thrown everything over," Blake went on, "because she committed a crime."
Claire had cataloged every possibility. "I can't see that. I know her better than anyone else, probably, and she's not - she wasn't - the criminal type any more than she was the suicidal type. Do you have any unsolved crimes you could pin on her?"
"No," Blake admitted, but his voice hinted that anyone could be either criminal or suicidal, take your pick.
"Maybe she went walking," Claire suggested, "and, say, fell into an old mine shaft and is still lying there. Maybe she hit her head and has amnesia - although I'm not sure that ever really happens. But why go out walking alone, at midnight, away from the village, instead of enjoying all the attention she must've gotten after the play?"
"The play. 'A history of . . .' What was the title again?"
"'An Historie of the Apocalypse as Visit'd upon Summerstow.' The true story of a seventeenth century witch trial."
"Ah, yes," said Blake. "Costumes and melodrama. Miss Varek played the lead, the girl who was a witch. Odd, that they'd choose an American for the role."
"The girl, Elizabeth, was only accused of being a witch," Claire amended. "What if the play had something to do with Melinda's disappearance?"
"You never know about actresses." Or Americans, Blake's grimace seemed to say. "We rang up hospitals. We placed notices in newspapers. We sent her photo to Interpol. Nothing."
"In Melinda's last letter she told me she had a new lover, someone connected with the play, but she didn't name names. Maybe he . . ."
"We interviewed everyone connected with the play and a fair number who weren't. They all had quite a few things to say about Miss Varek, some complimentary, some not, but none of them told us anything helpful." Blake replaced his glasses. His eyes were the dull gray of flint. "I think we can agree, Miss Godwin, that the amnesia, suicide, and running away theories are right out. Illogical and too dramatic. It could be that Miss Varek was murdered, if that's not too dramatic as well."
"Yeah, well, Melinda was a pretty dramatic person, play or no play."
"There are any number of motives for murder," Blake pointed out.
"Yes there are. A fatal accident would be simple, wouldn't it? But a murder, that's another matter entirely. That would be complicated."
Blake glanced at his watch and stood up. "I'm sorry, Miss Godwin. I'd like nothing better than to find Miss Varek, alive or dead. Unless some sort of evidence turns up, though, her case is as good as closed."
Claire envisioned a portfolio slamming shut on Melinda, flattening her into two dimensions like a playing card. If this had been a poker game, Blake would've just called her bluff. And her hand was empty.
Blake handed her a business card and summoned a sympathetic smile even as he eased her from her chair. Muttering something about a pleasant holiday, he ushered her out the door of the office and abandoned her in the corridor. It smelled of cigarette smoke, disinfectant, and sausage.
Claire hadn't expected her visit to the Derbyshire Constabulary to prove anything. It was merely a formality, like securing the end of a strand of yarn before she began stitching. Because she wasn't on holiday. She was on her way to Somerstowe to volunteer at the Hall just like Melinda had done last summer. She was going to discover her friend's body and a means of death, whether accident or murder.
Uncovering a murder, she reminded herself, would mean uncovering a murderer.
Her hands were still trembling. Jet lag, she assured herself, not fear, and she walked out into the rain.
The black, rain-slicked country road seemed no wider than the sheep path it'd probably once been. Its shoulders were stone walls whisking by inches from Claire's left side mirror. Beyond them the green countryside of the Peak District was soft-silvered by the rain, hazy and unreal as a dream. She groped after an appropriate quote - "this earth, this realm, this England," or "England's green and peaceful land," but all she could think was, I've fallen down a rabbit hole.
A roar and a whoosh made her clutch convulsively at the steering wheel. A missile disguised as a red Jaguar came up behind her and without slowing veered around her and vanished around the next curve. The drivers here, she thought as she started breathing again, either had x-ray vision or steadier nerves than hers.
She crawled around the curve. There was the village at last, a group of slate roofs nestled beneath those glorious English oaks and beeches which always gave her a crick in her neck, imprinted as she was on stunted Texas trees. She relaxed her death-grip on the wheel.
The road became a street lined by stone buildings. On her right stood a pub: "Druid's Circle" read the sign swinging over the narrow sidewalk. Its lighted windows were warm and welcoming. So were those of the tea shop down the street. The shapes inside were no doubt those of the mad hatter and the march hare taking tea.
The Jaguar had either gone on through the town or turned aside - Claire didn't see it or its smoking wreckage anywhere. But she had other things to do than worry about crazed local drivers. Her letter from Richard Lacey, the National Trust's conservation architect, said to report to Somerstowe Lodge, outside the Hall, which was visible from the village.
Yes, it was. All right! Enchanted, Claire peered up at the sixteenth-century mansion perched atop its embankment. Tall multi-paned windows stared blankly toward the horizon. While rain streaked the pale golden stone of the façade, the carved balustrades edging the roof stood up as proudly as an Elizabethan's starched ruff. The old house might be afflicted with age and damp rot, but it was determined to keep up appearances.
A driveway turned off to the right. So did Claire, stopping beside a little house just outside the gate in the stone wall encircling the Hall. A dark green Rover, its door emblazoned with the oak leaf of the National Trust, sat beside it. Through the gate Claire saw a man strolling along behind the columns of the Hall's portico. The rain sifted silently down.
She was here. She was really here. She got out of the car, inhaled deeply of the cool damp air, and started toward the house. As Melinda always said, nothing ventured, nothing gained.
The door was set in an alcove, sheltered from the rain. Claire lifted the huge iron ring of the knocker and let it fall. The door opened so quickly she almost fell inside. She took a quick step forward.
The man in the doorway was younger than she'd envisioned, about her age, high twenties pushing thirty. He had chiseled lips, flexible eyebrows, and dark hair cut in a thick, soft brush. When Claire lurched toward him he juggled the rolled blueprints he was carrying and caught her elbow in a grip so firm she winced. "Miss Godwin, I presume?"
"Claire, please." She regained her balance. "Sorry."
He released her, his casual attitude indicating that strange women fell over his doorstep every day, a furtive sparkle in his eyes revealing that they didn't. "Richard Lacey. Please come through."
"Thank you."
Richard ushered her down a short hallway into a sitting room. A tiny fire burned in a grate, making the room look warmer than it really was. Furniture emerged like boulders from an overgrowth of books, magazines, and newspapers. A CD player, TV, and VCR sat on a stand beside the fireplace, the box to Shakespeare in Love gaping on top. Rows of neatly labeled notebooks - "Plaster," "Roof," "Planning Permission Forms" - filled a bookcase. A stone gargoyle smirked from the mantelpiece.
Richard dumped his drawings onto a table already piled with a computer, printer, scanner, and fax. A stack of charts avalanched onto the carpet. He considered them gravely.
Claire considered him, surreptitiously smoothing her canvas skirt. Great. Here she was, goofy with jet lag, and the Trust's caretaker and conservator turned out to be a hunk. But then Melinda, writing about the village's cast of characters, had said something about "Adonis" Lacey.
With the toe of his running shoe Richard nudged the papers beneath the table. Housekeeping accomplished, he looked around at Claire. His eyes were those of a tiger, brown flecked with gold, alight with perception, reflecting rather than revealing. Appraisal ran both ways, didn't it? Claire ducked.
The whistle of a teakettle came from the next room. Richard smiled ruefully, as though only too aware of - and not exactly comfortable with - his effect on the opposite sex. "Would you care for a cuppa?"
"Yes, please," Claire said.
He vanished into the kitchen, where he apparently started throwing dishes on the floor. She stifled any offers to help and warmed her hands at the fire. The gargoyle shared the mantelpiece with a penknife, two drawing compasses, a burned-down candle in a silver holder, duct tape, a floppy disk, and a swatch of brocade.
Heat rushed to Claire's cheeks. The wad of velvet half-concealed a color postcard. Glancing toward the kitchen, she moved the cloth aside.
She didn't have to see the entire picture, though, to recognize it. It was a distant shot of the Texas State Capitol looming at the end of Congress Avenue in Austin. She turned the postcard over. Her own handwriting jumped out at her. "Hey Melinda, Here's something to remind you of home. I put the ring in my safe-deposit box. Happy antiquating! - C."
Last summer, the night before Melinda left for England, she'd stopped by Claire's house for pizza and Chianti and a post-mortem of her marriage to a London solicitor. Taking off her wedding band, she'd inspected it with archaeological detachment. The engagement ring with its three exquisitely cut diamonds had stayed on her hand.
"Nige told me to keep the diamonds. He was glad I didn't want the cottage in the Cotswolds and the BMW. But what good would they do me? Money doesn't mean happiness. Neither does marriage. It was nice while it lasted. But it's over now. Finito. Kaput." She'd thrown the wedding ring up in the air and laughed when she couldn't find it.
Two weeks later Claire had turned up the ring behind her couch and e-mailed the good news. "Keep it for me," Melinda returned. And now that ring, an engraved gold band inscribed "To Melinda from Nigel" was in Claire's jewelry case in the car, a talisman for her quest.
Melinda's bittersweet laugh had always been directed mostly at herself, Claire reflected. She knew herself altogether too well. No wonder she sometimes made less self-aware people uneasy. Claire tucked the postcard back behind the velvet. She hadn't planned to find a clue quite so fast - she hadn't unpacked her deerstalker and magnifying glass. And yet there it was.
She'd wondered before she met him if Richard was Melinda's new lover. Now she put him at the top of her list. He'd not only known Melinda because she'd worked at the Hall, but he, too, had had a role in the play. According to the playbill Melinda sent, Richard played the role of Phillip Lacey, who'd written the melodrama in 1775 and who appeared as narrator in its production.
Richard emerged from the kitchen carrying a tray loaded with teapot and cups. Claire reminded herself that after her broken engagement she was supposed to be cynical about men and looked at Richard more critically.
The angles of his face were almost too severe, she decided, as though freshly-sculpted and not yet weathered. He was tall and slender as a Corinthian column and carried himself as straight - which could just as well indicate arrogance as self-esteem. In contrast to the domestic disaster of his house, his RAF blue sweater with its dashing nylon patches on the shoulders and elbows was as clean as the jeans it was draped over. Did that imply a contradictory nature?
"Are you related to Phillip Lacey?" Claire asked.
"Author of The Play?" Richard replied, his careful enunciation capitalizing the letters, his velvet voice enriching the words. "I'm a descendent, right enough."
"Is that why you were chosen to be Somerstowe Hall's conservation expert?"
He elbowed a pile of magazines off a coffee table and set down the tray. Speaking to the teapot rather than to Claire, he said, "My presence here is a bit more than cosmic coincidence, yes. But it's been donkey's years since a Lacey owned the place. Phillip was the family wastrel. His sons had to sell up to the Cranbournes and their descendents left the place to the Trust. One sugar or two?"
"One please."
He sloshed milk, tea, and sugar into a cup and handed it over. Claire sipped at the steaming caramel-colored brew. Should she try cleverly worded leading questions about Melinda or should she simply ask him outright? Her blood-sugar level probably wasn't up to cleverness.
With a fine disregard for the temperature of the tea, Richard drank deeply. "Tea thick enough to trot a mouse across, my mother always says. Mind you, she's Scottish."
"You make that sound like a confession."
"In some quarters it might be." His smile was like the sun coming out after forty days of rain.
Dazzled, Claire reminded herself once again to be cynical. This man was a suspect.
"Is this your first trip to the UK?" Richard went on.
"Oh no, I've been here several times."
"So the driving on the left's not too bad, is it?"
Claire groaned. "When you can concentrate, no. I probably made a public menace of myself today, renting a car as soon as I stepped off the plane. The motorway wasn't so bad, with three lanes of traffic going the same way. But the interchanges, and the smaller roads - I kept repeating, keep left, keep left, keep left, like a crazed communist bureaucrat."
He laughed. "I've driven in America. It's all backward, like stepping through the looking-glass, isn't it?"
"Tell me about it," she said, and couldn't help a Cheshire cat grin in return.
He set down his mug and strolled over to the fireplace, where he prodded the burning chunks of wood into a pile. His efforts released a few more BTUs into the room.
"The last time I was here," Claire went carefully on, "was two years ago, for Melinda Varek's wedding. You met her last summer. I was hoping to find out what happened to her. Along with my volunteer work, of course."
Richard was leaning to the side, putting the poker back in its rack on the hearth, when the magic name passed her lips. She couldn't see his face, but even his back was expressive. He straightened very slowly. His hands tightened into fists at his sides. His shoulders squared themselves beneath the sweater. Claire waited for him to turn around and say something along the lines of, "Oh yes, Melinda. Quite the baffling mystery. So you're here now, how can I help you?"
He spun around. The blaze in his eyes knocked Claire back against the couch. She'd sneaked up on him. He was resentful, angry - maybe even, oddly enough, frightened. "That's your game, then," he said, his voice clipped to the minimum. "I've been wondering ever since your application came in why your name was so damnably familiar."
"It's no game," retorted Claire. "I'm trying to find out what happened to Melinda. You knew her. You have a postcard I sent her on the mantel."
"The police couldn't find her. Why do you think you will do?"
"I knew Melinda."
"Well, we all knew Melinda, didn't we?" Richard turned back to the mantelpiece. In one swift gesture he threw the postcard into the fire. It flared with yellow flame and then shriveled into black crepe paper. He assumed a pose that was obviously meant to appear casual, but was closer to the stance of a man before a firing squad.
"Do you know anything that could help explain her disappearance?" Claire persisted. "Maybe she said something about making a quick trip somewhere."
"I assure you I was thoroughly interviewed by the police. I couldn't help them. I can't help you."
Claire scowled, then reminded herself that discretion was the better part of valor - or foolishness, as the case might be. She put down her cup and stood. "What time do you want me to report to work tomorrow?"
"Nine," Richard said to the gargoyle's carved leer.
"Thank you for the tea."
"You're welcome."
She let herself out. The afternoon had lightened. The rain had stopped, the fields glistened an ethereal fairy green, and through the massed ranks of gray and white clouds a sunbeam shone like a searchlight. Crows called harshly from the trees behind the wall. The windows of Somerstowe Hall glinted as though with sudden inspiration.
Claire was more puzzled and indignant than inspired. So much for the direct query. She should've opted for leading questions, made friends with Richard, won his confidence . . . No. She was cautious, but she wasn't sneaky. Not on purpose, anyway.
If Richard had been Melinda's lover, wouldn't he be just as frustrated at her disappearance as Claire was? Wouldn't they be allies? But what he was was defensive. Why? Because of a guilty conscience?
Yes, there'd been a spark of mutual attraction. Big deal. Richard's handsome face might just as well have been the gargoyle's for all she was attracted to him now. He knew something. She was positive he knew something.
Sheep stood like bundles of cotton candy in a distant field. Two boys on bicycles splashed by on the road. Claire tried closing her burning eyes, but when she opened them they didn't focus any more clearly. She'd waited a year and now everything was happening too fast.
She climbed back into her car and slammed the door. Someone had stolen the steering wheel . . . No, she'd gotten in the wrong side. With an aggravated snort she crawled across the emergency brake to the driver's seat.
Claire could be certain of only one thing. Whether Richard had been Melinda's lover or not, whether he knew anything about her disappearance or not, his attitude was going to make him the very devil to work for.